LaSoaphia QuXazs
LaSoaphia QuXazs
(1934 / Budapest, Hungary, living in the USA)
Biography of LaSoaphia QuXazs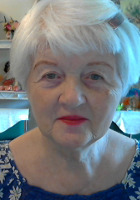 I work out my life by writing a poem every time something comes to my attention and I have the feeling for it.
I'd like to publish here some of my Life Philosophy. However, I know only those people will see it, who understand, and already have some knowledge on the subject.
Let us all evolve on the road of life with the speed what we are able to take.
I do my best to follow the great teachers, such as the Bible and the TAO, and familiar of the teaching, that we are what we think, by picking up the appropriate lifestyle.
Everybody is just a traveler on the road of Life, where lessons are given. There is no good, there is no bad, only life lessons.
I came a long way from 1934, went through a war, a revolution, starvation, poverty and I can relate to everybody on this Earth.
lasaqusa@gmail.com
Love you all, wishing you God's best of Health, Good life and true Happiness in all your life.

LaSoaphia QuXazs's Works:

Life, Love, Friendship and Work.
Wishes
Humanity always wishing for another thing
As in winter for coming of the spring.
Summer they are tired of the heat,
Or when it rains they want to stop the beat.

Always praying (begging) for peace or for the ill,
More money when they blow theirs to cover their bill.
Always something what they don't have yet,
Seldom appreciating the blessings or the beautiful sunset.