LaSoaphia QuXazs
LaSoaphia QuXazs
(1934 / Budapest, Hungary, living in the USA)
Biography of LaSoaphia QuXazs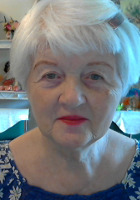 I work out my life by writing a poem every time something comes to my attention and I have the feeling for it.
I'd like to publish here some of my Life Philosophy. However, I know only those people will see it, who understand, and already have some knowledge on the subject.
Let us all evolve on the road of life with the speed what we are able to take.
I do my best to follow the great teachers, such as the Bible and the TAO, and familiar of the teaching, that we are what we think, by picking up the appropriate lifestyle.
Everybody is just a traveler on the road of Life, where lessons are given. There is no good, there is no bad, only life lessons.
I came a long way from 1934, went through a war, a revolution, starvation, poverty and I can relate to everybody on this Earth.
lasaqusa@gmail.com
Love you all, wishing you God's best of Health, Good life and true Happiness in all your life.

LaSoaphia QuXazs's Works:

Life, Love, Friendship and Work.
Now
There was time in my life when I was frustrated,
Nervous, angry, troubled and agitated.
Everybody was unfair to me, I received no respect,
Couldn't understand where I went wrong, how to correct.

Then I learned more and more how life operates,
It was not easy to learn who does and who doesn't cooperates.
However, the meaning of the puzzle fit together at the end,
I am the one who caused everything, good or bad, the need is to unbend.