Leah DeCresce
Leah DeCresce
(9.16.90 / Akron)
Biography of Leah DeCresce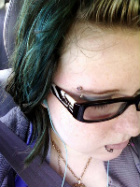 'I'm a daughter hiding my depression
I'm a big sister making a good impression
I'm your friend acting like I'm fine
I'm a teenager pushing her tears aside
I'm the girl sitting next to you
I'm the one asking you to care
I'm your best friend hoping that you'll be there.'


I am...
quirky. crazy. untrusting. reckless. adorable. musical. creative. musician. semi-spoiled.
open. interesting. compassionate. affectionate. selfless. loyal. vibrant. multi-faceted.
alone in a crowd. weird. fun-loving. spontaneous. sugar fiend. student. simply complicated. alluring.PokeFan.
I'm just a fucked up girl, looking for my own piece of mind. - Eternal Sunshine of the Spotless Mind


http: //www.postpoems.com/members/dhoomedprincess/
This is where my older poetry was originally hosted.

I am Leah Ariane, & you really should get to know me.
Monitor
dark as death,
corpselike sleep reigns over me.
a distant oblivion,
a glimpse of the horizon.

The rise & fall of shallow breaths,
a heartbeat stirs inside it's prison.
I am just a blip on the monitor.
Just a sudden scare, crisis averted.