Leo Marks
Leo Marks
(24 September 1920 – 15 January 2001 / London)
Biography of Leo Marks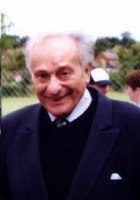 Born the son of an antiquarian bookseller in London, he was first introduced to cryptography when his father showed him a copy of Edgar Allan Poe's story, "The Gold-Bug". From this early interest, he demonstrated his skill at codebreaking at an early age by deciphering his father's secret price codes.

His father, Benjamin Marks, was joint owner of the Marks & Co bookshop at 84 Charing Cross Road, which achieved international fame with the 1970 book of that title by New York writer Helene Hanff and the later plays and movie.

As a teenager, he earned pocket money by setting the notoriously difficult Times cryptic crossword.
This page is based on the copyrighted Wikipedia Leo Marks; it is used under the Creative Commons Attribution-ShareAlike 3.0 Unported License. You may redistribute it, verbatim or modified, providing that you comply with the terms of the CC-BY-SA.
The Life That I Have
The life that I have
Is all that I have
And the life that I have
Is yours

The love that I have
Of the life that I have
Is yours and yours and yours.