Leonard Dabydeen
Leonard Dabydeen
(Guyana)
Biography of Leonard Dabydeen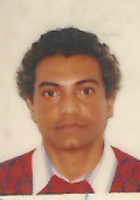 Canadian - Guyanese born.University education. Freelance creative writer.

Poetry manuscripts submitted in Poetry Contests in Canada & U.S.A.

Leonard Dabydeen's Works:

1. Watching You, A Collection of Tetractys Poems, Xlibris Publication (2012) .

2. Searching for You, A Collection of Tetractys and Fibonacci Poems, Xlibris Publications (2015) .
New Poems
Looking At My Calendar
Dark clouds hiding moon
windstorm gathering more speed
rain is in my dreams.