Leonora Speyer
Biography of Leonora Speyer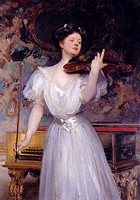 Leonora Speyer, Lady Speyer (née von Stosch) (7 November 1872 – 10 February 1956) was an American poet and violinist.

She was born in Washington, D.C., the daughter of Count Ferdinand von Stosch of Mantze in Silesia, who fought for the Union.

She studied music in Brussels, Paris, and Leipzig, and played the violin professionally under the batons of Arthur Nikisch and Anton Seidl, among others. She first married Louis Meredith Howland in 1894, but they divorced in Paris in 1902. She then married banker Edgar Speyer (later Sir Edgar), of London, where the couple lived until 1915. That year, they came to the United States and took up residence in New York, where Speyer began writing poetry. She won the 1927 Pulitzer Prize for Poetry for her book of poetry "Fiddler's Farewell".
Sekhmet The Lion-Hearted
In the dark night I heard a stirring,
Near me something was purring.
A voice, deep-throated, spoke:

I litter armies for all easts and wests
And norths-and souths:
They suckle my girl-goddess breasts,
And my fierce milk drips from their mouths.
The voice sang: