Leslie Anne Mcilroy
Leslie Anne Mcilroy
(8/4/1965 / Pittsburgh)
Biography of Leslie Anne Mcilroy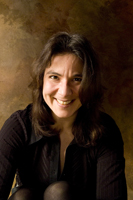 Leslie Anne Mcilroy received BAs in Creative Writing, Professional Writing and Philosophy from Carnegie Mellon University in 1986. In 2000, she won the Word Press Poetry Prize for her first full-length collection Rare Space and in 1997, the Slipstream Poetry Chapbook Prize for her chapbook Gravel. Leslie also took first place in the 1997 Chicago Literary Awards Competition judged by Gerald Stern. Leslie's poems are published in numerous journals and anthologies including American Poetry: The Next Generation, The Mississippi Review, Nimrod International Journal of Prose & Poetry and Pearl. From 1996 through 2002, she served as co-founder and co-editor of HEArt, the nation's only journal of literature and art devoted to confronting discrimination and promoting social justice. Leslie currently works as a copywriter in Pittsburgh, PA where she lives with her daughter Silas. Her second full-length book, Liquid Like This, was published by Word Press in 2008.

Relevant Link with performance pieces: http: //www.youtube.com/lesanne123

Leslie Anne Mcilroy's Works:

Gravel, Slipstream Press 1997
Rare Space, Word Press,2001
Liquid Like This, Word Press,2008
Leslie Anne Mcilroy Poems
15 Minutes Of French Kissing
For Don Bertschman are the lips of god praying for what's right — deep-velvet dark on the tongue
Heart Time
For days now, I've been hearing my heart beat. In my dreams, in the city wind, on the radio. I've been counting up and down in the back of my brain.
Big Guns
They leap from hands, blazed and jumpy, looking for something with fur and big eyes, something that can't talk, or won't — the thrust of a child into oncoming traffic
All poems of Leslie Anne Mcilroy »
Share your comments »
Big Guns
They leap from hands, blazed and jumpy,
looking for something with fur and big eyes,
something that can't talk, or won't —
the thrust of a child into oncoming traffic
to play chicken with the school bus.
Smitten with danger, we lick the drippings
of a Molotov cocktail, the wet smell
of burn, gas and rag of it. Smoke.