Leslie Coulson
Biography of Leslie Coulson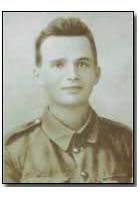 Leslie Coulson was a journalist and poet. He served in Gallipoli and on the Western Front during the First World War, until his death during fighting on the Somme in October 1916.

Born in Kilburn Coulson's early career saw him become a well-known pre-war journalist, eventually attaining a position as assistant editor of the Morning Post.

With the arrival of war in Europe in August 1914 Coulson was prompt in volunteering to serve as a ranker with the Royal Fusiliers within the space of a month. He set sail on Christmas Eve 1914 for Malta. He was never to return.

He became ill with mumps before he saw active service.
Coulson penned his first war poem while in hospital - appropriately named A Soldier in Hospital. He served in Gallipoli during 1915, during which time he was wounded, Coulson received a posting to France he was recentl promoted to Sergant following the Allied evacuation of the peninsular.

His best-known poem - Who Made the Law - was written while serving and trying to survive in the trenches of the Western Front, he wrote of his distain and lack of confidence in the politicians and military authorities who determined that war should exist and be continued.

He was killed - a bullet in the chest - during a British attack upon the German stronghold position of Dewdrop Trench during the Somme Offensive on 8 October 1916 aged 27.

Coulson's father Frederick edited a bestselling collection of his son's poems and published them as From an Outpost and Other Poems in 1917. The collection sold 10,000 copies during 1917.
This page is based on the copyrighted Wikipedia Leslie Coulson; it is used under the Creative Commons Attribution-ShareAlike 3.0 Unported License. You may redistribute it, verbatim or modified, providing that you comply with the terms of the CC-BY-SA.
From The Somme
In other days I sang of simple things,
Of summer dawn, and summer noon and night,
The dewy grass, the dew wet fairy rings,
The larks long golden flight.

Deep in the forest I made melody
While squirrels cracked their hazel nuts on high,
Or I would cross the wet sand to the sea
And sing to sea and sky.