Letty Cottin Pogrebin
Biography of Letty Cottin Pogrebin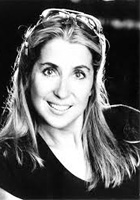 Letty Cottin Pogrebin (born June 9, 1939) is an American author, journalist, nationally-known lecturer, and social justice activist. Her tenth book, How to Be A Friend to A Friend Who's Sick, will be published in April, 2013.

A co-founder with Gloria Steinem of Ms. Magazine, a mass market feminist alternative to traditional women's media, Pogrebin also has contributed hundreds of articles and op-eds to a wide variety of print publications, including The New York Times, The Nation, Washington Post, Boston Globe, Newsday, Ms., Harpers Bazaar, Family Circle, MORE, Travel & Leisure, as well as online media such as Huffington Post and Forward.com.

Among Pogrebin's ten books are, most recently, Three Daughters, a novel, and Getting Over Getting Older, and Deborah, Golda, and Me, both memoirs. She is also the author of Family Politics, Among Friends, Growing Up Free, Getting Yours, and How To Make It In A Man's World. She is the editor of Stories for Free Children, and served as the Editorial Consultant on Marlo Thomas' award-winning children's projects, Free To Be, You and Me, and Free To Be A Family.