Liilia Talts Morrison
Liilia Talts Morrison
(August 20,1937 / Estonia)
Biography of Liilia Talts Morrison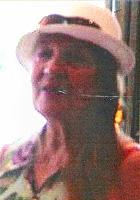 Liilia loves Florida, which is the subject of many of her poems and writings. Favorite themes: the spiritual life, simplicity, color, nature & its creatures and things fallen to the wayside.

Liilia Talts Morrison's Works:

'Tuesday, ' a long short story included in the collection 'Seven Days' published in UK by Legend Press.
White Velvet
Did you ever wear a cloak
Softer than a kitten's chin
Creamy, milk rich, mild its yoke,
Cradling soft with languid stroke?

Folding, falling, touching ground,
Arms and shoulders blending in,
Couching, tender to surround
Floating o'er the snowy ground?