Liilia Talts Morrison
Liilia Talts Morrison
(August 20,1937 / Estonia)
Biography of Liilia Talts Morrison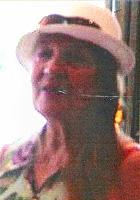 Liilia loves Florida, which is the subject of many of her poems and writings. Favorite themes: the spiritual life, simplicity, color, nature & its creatures and things fallen to the wayside.

Liilia Talts Morrison's Works:

'Tuesday, ' a long short story included in the collection 'Seven Days' published in UK by Legend Press.
A Bruised Deer
A smitten and bruised deer
I hide in tall bushes,
Too easily spotted
By daylight. A prey.

In night's sober respite,
I venture forth shyly,
Smitten, side bleeding,
From secrets of reeds.