Liilia Talts Morrison
Liilia Talts Morrison
(August 20,1937 / Estonia)
Biography of Liilia Talts Morrison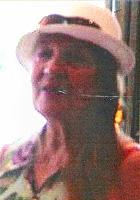 Liilia loves Florida, which is the subject of many of her poems and writings. Favorite themes: the spiritual life, simplicity, color, nature & its creatures and things fallen to the wayside.

Liilia Talts Morrison's Works:

'Tuesday, ' a long short story included in the collection 'Seven Days' published in UK by Legend Press.
Circlets And Ringlets
Circlets and ringlets surround me today
Feelings long shrouded are strewn on the way
Zephyrs and swallows entwine as they play.
Is it then spring or a Fools Gold reprieve,
Cold dusty winter just sifting its sieve?

It's been quite a while since crocuses bloomed
Yesterday's heartaches though faint now, yet wound
Tomes of my heart in hard leather are bound