Liilia Talts Morrison
Liilia Talts Morrison
(August 20,1937 / Estonia)
Biography of Liilia Talts Morrison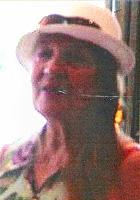 Liilia loves Florida, which is the subject of many of her poems and writings. Favorite themes: the spiritual life, simplicity, color, nature & its creatures and things fallen to the wayside.

Liilia Talts Morrison's Works:

'Tuesday, ' a long short story included in the collection 'Seven Days' published in UK by Legend Press.
Bark Gatherers
In the forest they did gather
Bark and moss in sunny weather;
Later rested in the shade
And forgot their daily trade.

Mushrooms, sweet wood, herbs galore
Forest bowels gave of yore.
Men and children, women too,
Picked red berries as they grew.