Lilymarie Mendoza
Lilymarie Mendoza
(9-29-1991 / Evergreen Colorado)
Biography of Lilymarie Mendoza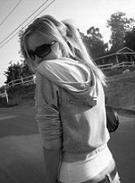 Hi im lilymarie mendoza, i was born in Evergreen, Place where i wanna grow old at.I love my family, my friends and my son.Im a single teenage mother and my son means the world to me.
Lilymarie Mendoza Poems
What You Have Done To Me
A walk through the park on one lovely night It was just an innocent walk All i wanted was some time to think
Who Is She...?
Born in Evergreen, Colorado on September 29,1991 says the chriping birds out side the hospital window. Role model of 3 wonderful all look alikes brothers says the family photos. Mother of one amazing son says the smile on little Austins angelic face. A responseable daughter says her father and mother.A Catholic says the Virgin Mary that protects her well she sleeps. A lover of the color black says her room. She has good taste in music says her ipod. She loves to work out says her work out clothes. A good taste of fasion says her name brand clothes. A twilight reader say the books on her shelve. A dancer says the ballet shoes. And a tenis player says the metals in her room.
All poems of Lilymarie Mendoza »
Share your comments »
Who Is She...?
Born in Evergreen, Colorado on September 29,1991 says the chriping birds out side the hospital window. Role model of 3 wonderful all look alikes brothers says the family photos. Mother of one amazing son says the smile on little Austins angelic face. A responseable daughter says her father and mother.A Catholic says the Virgin Mary that protects her well she sleeps.

A lover of the color black says her room. She has good taste in music says her ipod. She loves to work out says her work out cl