Linda Bierds
Biography of Linda Bierds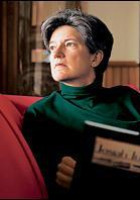 Linda Louise Bierds (born 1945 Delaware) is an American poet and professor of English and creative writing at the University of Washington, where she also received her B.A. in 1969.

Her books include Flights of the Harvest Mare; The Stillness, the Dancing; Heart and Perimeter; and The Ghost Trio (Henry Holt 1994). Since 1984, her work has appeared regularly in The New Yorker. Her poems are featured in American Alphabets: 25 Contemporary Poets (2006) and many other anthologies. She lives on Bainbridge Island.

Awards

She has received fellowships from the National Endowment for the Arts, the Ingram Merrill Foundation, the Artist Trust Foundation of Washington and the Guggenheim Memorial Foundation. In 1998, she was awarded a John D. and Catherine T. MacArthur Fellowship "genius" grant.
Linda Bierds Poems
Incomplete Lioness
Or lion. Too little marble left for certainty: affixed to a bone-like armature, just a flank and scored shoulder, and far down the missing, crouching shape, a single, splay-toed paw.
The Ghost Trio
A little satin like wind at the door. My mother slips past in great side hoops, arced like the ears of elephants on her head a goat-white wig,
Flight
Osseous, aqueous, cardiac, hepatic— back from bone the echoes stroke, back from the halved heart, the lungs
All poems of Linda Bierds »
Share your comments »
Flight
Osseous, aqueous, cardiac, hepatic—
back from bone the echoes stroke, back
from the halved heart, the lungs
three years of weightlessness have cinched to gills.
From a leather chaise, the astronaut's withered legs
dangle, as back they come, sounds
a beaked percussion hammer startles into shape.
The physician cocks his head and taps—exactly
as a splitter halves his slate, the metamorphic rock