Lindsey Priest
Lindsey Priest
(5: 6: 54 / Huddersfield England)
Biography of Lindsey Priest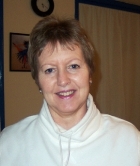 Fifty-three year old Primary School teacher with Parkinson's Disease - but am still smiling!
Married to Mike and have two lovely daughters, Jenny (24) and Melanie (22) .

If you are reading this - please get in touch and tell me what you think of my poems - honestly.

Lindsey Priest's Works:

I have two - both published by madjockpublishers.co.uk. and available through Amazon.
The first one is called Arc of Dazzling Golden Light and the second is 'How Loud Can I Shout?
Losing Things
Why am I always losing things?
Why do they disappear?
Here one minute, gone the next,
I'm sure I put them near.

I remember thinking to myself,
I'll put this where I know!
Then as soon as I have turned away
It must grow legs and go!