Linh Dinh
Linh Dinh
(1963 / Saigon, Vietnam)
Biography of Linh Dinh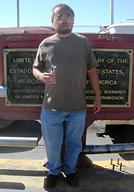 Linh Dinh was born in Saigon, Vietnam in 1963, came to the US in 1975, and has also lived in Italy and England. He is the author of two collections of stories and four books of poems. His work has been anthologized in Best American Poetry 2000, Best American Poetry 2004, Best American Poetry 2007 and Great American Prose Poems from Poe to the Present, among other places. Linh Dinh is also the editor of the anthologies Night, Again: Contemporary Fiction from Vietnam (Seven Stories Press 1996) and Three Vietnamese Poets (Tinfish 2001) , and translator of Night, Fish and Charlie Parker, the poetry of Phan Nhien Hao (Tupelo 2006) . Blood and Soap was chosen by the Village Voice as one of the best books of 2004. His poems and stories have been translated into Italian, Spanish, German, Dutch, Portuguese, Japanese and Arabic, and he has been invited to read his works all over the US, London, Cambridge and Berlin. He has also published widely in Vietnamese. He lives in Philadelphia.

Linh Dinh's Works:

Fake House, short stories (Seven Stories Press 2000) , Blood and Soap, short stories (Seven Stories Press 2004) , All Around What Empties Out, poems (Tinfish 2003) , American Tatts, poems (Chax 2005) , Borderless Bodies, poems (Factory School 2006) and Jam Alerts, poems (Chax 2007) .
My Local Burning
If it feels and looks like racing,
And crashes, hallelujah, like racing,
Then it's World War III all right.

Hapless, uninspired civvies of all ages
Ducking behind dumpsters. To rake them
Is less than lame, even with the massive
Ordnance up your dead mama's ass.