Lisel Mueller
Biography of Lisel Mueller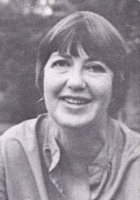 an American poet.

She was born in Hamburg, Germany, in 1924 and immigrated to America at the age of 15. Her father, Fritz Neumann, was a professor at Evansville College. Her mother died in 1953. "Though my family landed in the Midwest, we lived in urban or suburban environments," she once wrote. She and her husband, Paul Mueller (d. 2001) built a home in Lake Forest, Illinois in the 1960s, where they raised two daughters and lived for many years. Mueller currently resides in a retirement community in Chicago. Her poems are extremely accessible, yet intricate and layered. While at times whimsical and possessing a sly humor, there is an underlying sadness in much of her work.

She graduated from the University of Evansville in 1944 and has taught at the University of Chicago, Elmhurst College in Illinois, and Goddard College in Plainfield, Vermont.

Mueller has written book reviews for the Chicago Daily News.

Lisel Mueller's Works:

Poetry

Life of a Queen (1970) by Northeast/Juniper Books
Alive Together: New & Selected Poems (1996), which won the Pulitzer Prize for poetry
Learning to Play by Ear (1990)
Waving from Shore (1989)
Second Language (1986)
The Need to Hold Still (1980), National Book Award
Voices from the Forest (1977)
The Private Life (1975) Lamont Poetry Selection
Dependencies (1965)
Reading the Brothers Grimm to Jenny
Hope (1976)

Translation

She has published several volumes of translation:

Circe's Mountain by Marie Luise Kaschnitz (1990)
This page is based on the copyrighted Wikipedia Lisel Mueller; it is used under the Creative Commons Attribution-ShareAlike 3.0 Unported License. You may redistribute it, verbatim or modified, providing that you comply with the terms of the CC-BY-SA.
Scenic Route
For Lucy, who called them "ghost houses."


Someone was always leaving
and never coming back.
The wooden houses wait like old wives
along this road; they are everywhere,
abandoned, leaning, turning gray.