Lizette Woodworth Reese
Biography of Lizette Woodworth Reese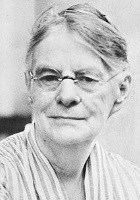 Born in the Waverly section of Baltimore, Maryland, she was a school teacher from 1873 to 1918 at the Western High School in Baltimore. During the 1920s, she became a prominent literary figure, receiving critical praise and recognition, in particular from H. L. Mencken, himself from Baltimore.

Her poetry, remarkable for its intensity and concision, has been compared to that of Emily Dickinson. She is probably best remembered for the sonnet "Tears." Her volumes of poetry include A Branch of May (1887), A Handful of Lavender (1891), A Quiet Road (1896), Spicewood (1920), and Selected Poems (1926).

Lizette Woodworth Reese's Works:

A Branch of May (1887)
A Handful of Lavender (1891)
A Quiet Road (1896)
A Wayside Lute (1909)
Spicewood (1921)
Wild Cherry (1923)
The Selected Poems (1926)
Little Henrietta (1927)
Lizette Woodworth Reese: The Pamphlet Poets (1928)
A Victorian Village: Reminiscences of Other Days (1929), illustrated by J. J. Lankes
White April (1930)
The York Road (1931)
Pastures and Other Poems (1933)
The Old House in the Country (1936)
Worleys (1936) story
This page is based on the copyrighted Wikipedia Lizette Woodworth Reese; it is used under the Creative Commons Attribution-ShareAlike 3.0 Unported License. You may redistribute it, verbatim or modified, providing that you comply with the terms of the CC-BY-SA.
A Rhyme Of Death's Inn
A rhyme of good Death's inn!
My love came to that door;
And she had need of many things,
The way had been so sore.

My love she lifted up her head,
"And is there room?" said she;
"There was no room in Bethlehem's inn
For Christ who died for me."