Logan Rheinst
Logan Rheinst
(7/22/89 / Rochester NY)
Biography of Logan Rheinst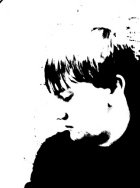 I was born to a sickly woman of 40. She was told that I was going to have permanent mental and/or physical disabilities, but the only permanent effect I have noticed so far is that I stutter. My parents were divorced..twice. I never really had a relationship with my father. I fear my mother is going mad and my family is falling apart. My eldest brother is living here with my mom, my mentaly handicapped brother, and me still. I may be this family's only hope, but i don't mean to sound.....whats the word...idk. w/e.

There is alot more i don't feel like putting in here. So if you wanna know then ask me i guess. or not. you choose.

Logan Rheinst's Works:

None: (
The Restless Soul
Another sleepless night drags on
add another notch to the bedroom door.
Two rows of five and one more of four
this one makes fifteen and I know there'll be more.

My mind races through
the shames of every day,
If i could ever make these thoughts disapear,
then to sleep i would go and quickly fade away.