Lord John Wilmot
Biography of Lord John Wilmot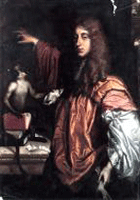 Wilmot was born at Ditchley in Oxfordshire, England. He was the son of a Cavalier hero and his deeply religious wife. By the age of eighteen he had already been involved in a number of affairs, one of which resulted in the birth of an illegitimate daughter. In 1665 he kidnapped the much sought after heiress Elizabeth Malet, whom he later married. His rakish lifestyle and wit earned him the favour of Charles II and he remained a favourite of the king even though he was banished from the court on a number of occasions.

Wilmot's poetry often expresses a feeling of disgust at the futile nature of his life, a life he seemed to repent for during its last year, whilst being cared for by the rising Anglican Bishop, Gilbert Burnet. Wilmot's work gives great insight into the over-indulgent lifestyles led in the court of Charles II and he writes more frankly about sex than any previous writers in the seventeenth century. He influenced and was admired by a large number of poets including John Dryden, Jonathan Swift and Alexander Pope. He was also known to be a great patron of writers, if a little unpredictable with his support.
This page is based on the copyrighted Wikipedia Lord John Wilmot; it is used under the Creative Commons Attribution-ShareAlike 3.0 Unported License. You may redistribute it, verbatim or modified, providing that you comply with the terms of the CC-BY-SA.
The Platonic Lady
I could love thee till I die,
Would'st thou love me modestly,
And ne'er press, whilst I live,
For more than willingly I would give:
Which should sufficient be to prove
I'd understand the art of love.

I hate the thing is called enjoyment:
Besides it is a dull employment,