Lori Boulard
Biography of Lori Boulard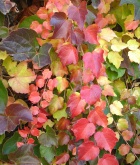 Like the sun I seem to gravitate west, venturing into uncharted territory whenever possible. I enjoy sharing with others who love poetry and reading their work, so if something moves you - in any direction - I'd love to know.
Not Another Smoking Poem
Sunk in my seat in a meeting at 3,
in a chair better suited for interrogation,
I officially sign off my attention
and jump visually out the window.
I spot smokers lingering below, and envy them
as a child watching fresh falling snow
from an overheated classroom.

Just one drag, I dream, to reassemble my parts.