Lori Boulard
Biography of Lori Boulard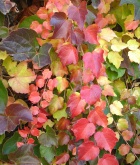 Like the sun I seem to gravitate west, venturing into uncharted territory whenever possible. I enjoy sharing with others who love poetry and reading their work, so if something moves you - in any direction - I'd love to know.
007 Spring Cleaning
It is time. Time for changes.
Time to open windows
and let breezes of inspiration in,
sweep out the echo of lingering laughter,
and wipe away the stains of family, friends
and Shiraz tipped by the fire.
Put to sleep in their albums snapshots
of a time not wasted. Pack up the waste.
Set it out for prompt and permanent removal.