Luke Pere
Biography of Luke Pere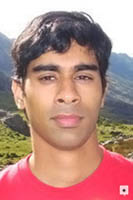 I have enjoyed writing poems, when in relationships, and it grew more when those ended and i stopped when i could no longer take it.
But through friends and new relationships, i can take back those lost years and start a new page.

I love painting, piano playing, movies, arts, music and traveling.

Luke Pere's Works:

None yet - But will have a memoir written one day.
Hope
Being in love,
Is like being a child.
Being hurt in love,
You will never smile.

You take this experience
which shapes your fate.
It alters your mind
In desiring a soul mate.