Macanoly (Mackie) V.Q.
Macanoly (Mackie) V.Q.
(June 09,1968 / La Victoria- Ribas County)
Biography of Macanoly (Mackie) V.Q.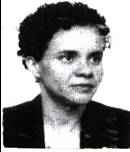 Macanoly V.Q. was born in the country of the Waterfall Angel in June 09,1968. Has been writing since she was very young and at the age of thirteen when her first 'book' written in metric rhyme, came up for a friend mad at her. Since then, couldn't stop the emotions wave rose and while their letters were turning into music, a young song writer with a great voice, frustrated in her accomplishment as a singer. Then she wanted to silence 'a voice that couldn't use' and started smoking at the age of fifteen... but writing turned into a poetic voice that couldn't avoid saying.
In 1991 met an American while studying at 'Cristobal Rojas' Visual Arts School in Caracas. Who in 1993 happened to be her husband, from the beginning marriage became a hard passage of life, the differences of concepts of how life is perceived, made a mark on her writing path, her poetry acquired certain influence in its tone from Sylvia Plath and Anne Sexton. The pen ride started a group of short poems begun in Spanish, under the titled of "Fallen Bird". In 1996 closeness got lost in the relationship, and soul mate misspelling turned into divorce in 1998, getting V.Q. the children custody during the school calendar.
In reference to her writings,1992 "The Loading Zone" (Zona de Descarga) was published in Spanish. A book with written experiences that pictured out words into suburban social stages was shared with the writer Liss Nucci, and V.Q also shared with her the poems publication.
Had Written "When Home..."(1990) , and "From others Windows"(1991) , right after came the polemic book titled, "Prostitute of Voices"(1992-Written in a week) . This book obtained a unique poetry prize in the national contest "Week of the Youth"(venezuela-1992) . But, left-out from the Aragua State Writers Anthology (Spanish) of her native country, "The Forgotten Flower", because the titles and tone of her poetry were inappropriate at that time to be published.
In a jump to US: Florida, New York, Salt Lake City, Montana and finally Washington –all at once-, "fallen Bird" was continued with a few first poems in English, here-and-there, but never ended.
Is the mother of two Children, the ones received by mom as the most precious gift of life... V.Q. never felt comfortable by being call 'writer', she could deal better by being known in a foreign country as the Hispanic single mother with no one else around, beside her children. When the older child was eight years old and the youngest five they look on mom's work wanting to know what was the much of mom's doing on the computer in her 'free time', then they asked her about and she pleased them by reading a short selection of her poems about flowers, inspired by the Skagit Valley Flowers Plantation... They were amazed about the letters and the amount,55 texts. And, as if discovering Earth they said, 'Mom you are a writer! '. For the first time V.Q. felt at ease by being a writer, and even excited about being discovered as it by them. In most presentations as a writer there is the important note about, "My most precious poetic work have been my children in existence...They made me aware of what the sense of being a writer is like."
In 1996 while being a Seattlelitan resident started a drawer-abandoned group of poems under the title of "Recipes". In 2000 published in a web site "White on White"(An Element of Fragility) , and in 2001 won a third prize in poetry at The Shoreline Poetry Contest(Seattle) , with three blossoms of this book, her first in English.
In 2001 had gotten jobless after working for two years and a half in a PK-Classroom. Long after five months of desperate search for any job, many filled applications, and call phones that never got back. she gives-up, and later on lost the children custody, too. She became an lonely errant soul in the city, leaving in a sudden decision the country in 2002... There was no one and nothing else around her to be lost.
Up to the present time had written "The Words' Motion" (built through magnetic poetry) , "The Horizon Between", and "Not-To-Forget". As well, being published in "Letters of The Soul"(2003) and "Eternal Portraits"(2004) , Anthologies of The International Library of Poetry since 2002 (MD, US) , and the Anthologies of Noble House Publishers, "Theater of The Mind"(2003) and "Colours of The Heart"(2004) . In the "Anthology of Revenga County Writers" (Venezuela-2004) . And in the year of 2004 won the unique prize in poetry at Biennial of Literature, "Semana de La Juventud" with the 24 hours written book, "Scenes", where a bridge between Spanish and English is built, after having spent a very long time as a non-Spanish speaker. Perhaps, the two books on the Week of Youth were awarded, those were never considered by the editor to be published, on the complaint of political issues that she didn't want to identify her with.
Her writings in Spanish had taken continuity since "Scenes" (Escenas-written in 12 hours) , where inspirational treat came from films titles as originally written in English. From then, poetry writing in Spanish had taken a new flow were quiet and disquiet tones rise from memories and not from the moment when the situations were lived. Consciousness and unconsciousness were playing their roles on stage while the writer observes the progress not during the creative process, but looking at them when finished. In 2005 wrote in 8 hours "Possible Forms" (Formas Posibles) , "Losing Wait" (Perdiendo Espera) in 3 hours, "Place of Meeting" (Lugar de Costumbre) written in an hour. Mostly, the writing times recorded are the writer's expectations discipline in writing to cover her own standards at a time made for herself, on the unconscious practice. And participating in poetry contests brings the measurement average of getting to have her writing known by itself, and not by the writers' name local fame, but, without a writer's attitude, skill and discipline could not be done, as usually are caracterized some of those "foggy" contests. "...It is like letting it go by itself and having it to get the credits by the writing qualifications, and not because I wrote them."
Same year won the unique prize in poetry from "Tomás Alfaro Calatrava Literature Biennial" (Venezuela) with the book written in hour and a half "From Other Windows", written in Spanish and Translated into English by the author. A work where the writer considers the writing experiences from the unconsciousness, aware of the exercise when the writing exercise is done, but not of the words coming in an unbreakable line and tone.
Continues writing in English while living in a Spanish speaking country, because her daughters' language gave wings wide spread to her words, and the separation a landmark to the emotions trail. At the current time besides poetry writing, she writes on polemical articles on social-cultural issues in opinion and Cultural Heritage Research articles on the araguan (Vzla) local press as free-lance writer, and some other newsmedia in USA and UK.
V.Q, also a painter, photographer, and a scultor, a volunteer worker, social-cultural organizer, a Pacific Protester, also teaches "Reading and Creative Writing Workshops" in different Cultural Centers, and longs for a better, and clear social life to the people, were values are considered and truly recovered in a society of justice and rights equality.
"I like having the word be just what one needs -Instead labeling myself with words I free my spirit in them." V.Q...

Macanoly (Mackie) V.Q.'s Works:

'Letters of The Soul'(2003) and 'Eternal Portraits'(2004) , Anthologies of The International Library of Poetry since 2002 (MD, US) .
Anthologies of Noble House Publishers (USA-France-UK) , 'Theater of The Mind'(2003) and 'Colours of The Heart'(2004) . Anthology of Revenga County Writers (Venezuela-2004) .
'The Loading Zone' (Zona de Descarga) ,1992 (Venezuela)
'From Other Windows' (Desde Otras Ventanas) ,2006 (Venezuela)
Cross-Country (2001)
I learned of the ice block
that no one was allowed
to make a sound
into the fog
I got in other direction
One with walking trails
beside my books
on the hills.