Madeline Arnold
Madeline Arnold
(20th July 1990 / Rinteln, Germany)
Biography of Madeline Arnold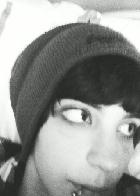 Whatever happens, there are three things that will come with me wherever I go; my music, my love for writing, and my depression. As fast as I run, I can't escape the inevitability of my destiny - so I want to spend my last few months writing some things that needed to be said a long time ago, and still apply. I hope you can all appreciate that.

Madeline Arnold's Works:

None.
The Taste Of My Throat
It's getting hard to focus.
They're looking down on us.
We can do it, I know that.
Life found, squatted, and shat.

The taste of my throat.
You don't like it.
You don't like what it makes me.
But when I do, I'm free.