Madeline Arnold
Madeline Arnold
(20th July 1990 / Rinteln, Germany)
Biography of Madeline Arnold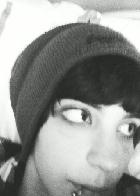 Whatever happens, there are three things that will come with me wherever I go; my music, my love for writing, and my depression. As fast as I run, I can't escape the inevitability of my destiny - so I want to spend my last few months writing some things that needed to be said a long time ago, and still apply. I hope you can all appreciate that.

Madeline Arnold's Works:

None.
My Sweet Satan
Why waste your time,
On another crater,
That'll pull you in,
Make you pay later.

Why bother trying,
To fix this machine,
That's broken inside,
Just like a dream.