Mahalaxmi Naidu
Mahalaxmi Naidu
(Mumbai / presently in Dubai, UAE)
Biography of Mahalaxmi Naidu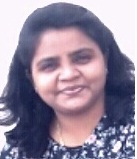 Mahalaxmi Naidu, is an emerging poet and fiction writer, she is an individual with intensity to write and possesses a poetic mind. She originally hails from Tirunelveli, Tamil Nadu, but was born and brought up in Mumbai. Her academic credentials are - Sociology, Literature and Human Resources Management. Currently, married and settled in Dubai, UAE working as a Human Resources Professional for a prominent Dubai based company. She had been writing poems from a very young age, during her college days she was an active member of the Literature Forum, wherein her poems and articles were virtuously featured in the college bulletin, this made her the section head at a later stage. Her poems like "Life's Ride", "Dare to Dream", "Act", "Imagination rules the world" were also featured in the local journals in Dubai, UAE; for which she received tremendous positive reviews.

Her writing maintains focus on humankind, life's magnitude, civilization and feminism. Her writing further portrays her sanguine approach towards life, she greatly regards her work as a process of knowing and commiserating the incredible verve life comprises of. Her writing impels the readers to instill positive spirit within one's self and also enlightens them with the prime purpose of being born as a Human.

Furthermore, her writing throws light on the philosophical outlook of humankind, but is not limited to this specific subject, her strong and hard-hitting woman voice articulates the gender bias and various gender related issues which even today exists in rural as well as urban regions of our country, India. She believes and empathizes the importance of education, which is the only way out to eradicate gender discrimination and the societal abuses allied to it.
In Search Of Paradise.
A bud of night stepped into my dream and showed me a ray of hope.

Hope took me to touch the essence & spirit of my determined goal.

Goal on triumph, allowed me to cherish the ecstasy of victory

Victory on other hand, pampered me with abundance of royalty in life.

Life with hope, goal and victory took me to the farthest place….