Mahbub Ul Alam Choudhury
Biography of Mahbub Ul Alam Choudhury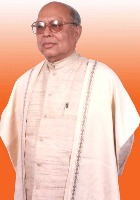 Mahbub Ul Alam Choudhury (Bengali: মাহবুব-উল-আলম চৌধুরী)was a Bangladeshi poet, journalist, and activist in the Bengali Language Movement.

Early Life

Mahbub Ul Alam Choudhury got involved in politics very early in his life. In 1942 he joined Quit India movement against British regime. In 1945 participated in the Bengal Provincial Students Summit where he came upon with the famous Bengali Literature writers of that time. He went across the rural areas during the political turmoil in 1946. He also became the Secretary of the first ever Nazrul anniversary in Chittagong. After the formation of Pakistan Mahbub became concerned about people's rights and formed a monthly magazine 'Shimanto'.

Involvement in Language Movement

Mahbub was involved in the language movement from 1948 to 1956. In 1952 he was in the Chittagong State Language Action Committee. On February 21, after knowing the police incident at Dhaka University, he immediately wrote the poem 'Kadte Ashini' which is the first influenced poem of the movement.
This page is based on the copyrighted Wikipedia Mahbub Ul Alam Choudhury; it is used under the Creative Commons Attribution-ShareAlike 3.0 Unported License. You may redistribute it, verbatim or modified, providing that you comply with the terms of the CC-BY-SA.