Malcolm Cowley
Biography of Malcolm Cowley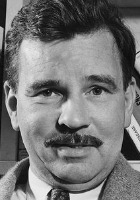 Malcolm Cowley (August 24, 1898 – March 27, 1989) was an American novelist, poet, literary critic, and journalist.

Early life

Born August 28, 1898 in Western Pennsylvania, Cowley grew up in Pittsburgh, where his father William was a homeopathic doctor. He graduated from Peabody High School where his friend Kenneth Burke was also a student. in 1920 he earned a B.A. from Harvard University.

Education

He interrupted his undergraduate studies to join the American Field Service in France during World War I. From the Western Front he reported on the war for The Pittsburgh Gazette (today's Pittsburgh Post-Gazette).

Marriage and family

Upon returning to the USA, Cowley married artist Peggy Baird; they were divorced in 1931. His second wife was Muriel Maurer. Together they had one son, Robert William Cowley, who is an editor and military historian.
Poilus
I

Regiments at a time pass through our village
And, filthy with the caked mud of the front
They lie along the roadside, or else hunt
Their billets in damp cellars, or in stables
And there, forgetting their abandoned tillage;
Their mining, or their clerking, or their law,
They sleep like beasts together on the straw.