Marcus Clarke
Marcus Clarke
(24 April 1846 – 2 August 1881 / London / United Kingdom)
Biography of Marcus Clarke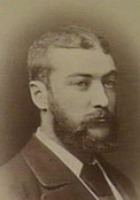 Marcus Clarke (1846-1881) had a short but productive life. Born in England, his early expectations of a large inheritance were disappointed and it was decided that he should emigrate to Australia where he had connections. He arrived in Melbourne in June 1863. Clarke's literary talents quickly became apparent and by November 1863 he had been published in Melbourne Punch. After abortive attempts at working in a bank and on the land, Clarke settled down to a career combining journalism, literary writing and librarianship. This exhibition aims to provide coverage of these three facets of his life, as well as offering one or two glimpses into his private life. Clarke was always able to earn a living of sorts by his pen.

Ian McLaren has described him as 'essentially the journalist. He was able to sense a story; he was aggressive and combative, ready to translate his thoughts into arresting words that caught the imagination of the public, or aroused antagonism to his views expressed so forthrightly'.1 He was kept busy by the Argus and Australasian, writing leaders and literary articles and reviewing books and theatre. A series of articles, 'Lower Bohemia', about Melbourne low life appeared in the Australasian and were particularly successful, being strong pieces of investigative journalism.

Clarke had also been contributing to the Australian monthly magazine, shortly to become the Colonial monthly. He became co-proprietor and editor of the Colonial monthly for a time, during which his first novel, Long odds was serialised. Clarke then moved on to become co-proprietor and editor of Humbug but, despite an impressive stable of contributors (including Henry Kendall, G.A. Walstab and Clarke himself) and satiric content, Humbug was not a financial success. Undaunted, Clarke continued to contribute to newspapers for the rest of his life.

The Yorick Club was the centre of Melbourne's bohemian literary circle in the late 1860s and 1870s. Many of Clarke's intimates were members, enthusiastic literary men who enjoyed lively debate. Some of the letters on display reflect Clarke's relationship with such men as J. J. Shillinglaw, Patrick Moloney and J.E. Neild. No doubt this atmosphere proved conducive to (among other things) Clarke's literary and journalistic efforts. However, in 1869 Clarke married Marian Dunn, a young actress. The demands of a growing family - they were to have six children - led to increasing financial pressure, probably one of the reasons why tension started to develop between husband and wife. By 1870 Clarke was forced to supplement his irregular income by taking a position at the Melbourne Public Library as Secretary to the Trustees. During his 11 year association with the library he produced his most memorable work.

After 1870 Clarke's writing had to be done in his spare time. His prodigious output 2 demonstrates how hard he was working and goes some way to tempering his reputation as a disciple of Bacchus.3 There is no doubt he did imbibe heavily at times since there is factual evidence and not a few anecdotes to support this. 4 However, the quality of his work indicates that he could not have been continually inebriated. His literary work and journalism reflect a focussed approach. By way of experiment Clarke did try, at times, to write under the influence of alcohol and drugs.

In 1874 Clarke's best known work, His natural life was published by George Robertson. It had already been serialised in the Australian journal between 1870-72. Clarke presented a copy of the first edition to his friend J. J. Shillinglaw.

Clarke's employment at the Public Library was due in part to the good offices of Sir Redmond Barry, chairman of the Trustees. It is not clear how Clarke and Barry met or why Barry approved of Clarke (Barry was known to disapprove of fiction - when showing a visitor around the library he was asked if many works of fiction were held. 'Very few indeed sir', replied the Judge, 'and I am thankful to say that those few are being rapidly appropriated by a few unscrupulous persons, and will not be eplaced.') 6 Barry's patience was no doubt tried by Clarke on occasion. Certainly Clarke's library work was secondary to his literary work. Nevertheless he became Sub-Librarian in 1873, a position he occupied until his death eight years later.

Henry Sheffield retired from the office of Chief Librarian in 1881. Clarke, not unreasonably, expected to obtain the position as he was next in line. His letter of application reflects this, and he was shortlisted. His anticipation led him to refuse the position of Victorian Parliamentary Librarian.

Unfortunately a number of factors conspired against him. A dispute with the Bishop of Melbourne, Dr James Moorhouse, over the place of Christianity in the modern world did not help his cause, although Clarke eventually got the better of the Bishop. Tension was rife between the Berry government and the Trustees over who had the right to appoint the new Librarian. Most significantly of all perhaps, Redmond Barry had died the previous November. Had he lived he may have supported his protégé's cause. Adding to all of this was the increasing financial strife in which Clarke found himself and which resulted in a second bankruptcy in mid-1881. Clarke had no choice but to resign. T.F. Bride was appointed Chief Librarian. The rapid combination of events combined with ill-health possibly contributed to Clarke's death on 2 August 1881.

Marcus Clarke's Works:

For the Term of his Natural Life (Melbourne, 1874)
The Peripatetic Philosopher (1869)
Twinkle, Twinkle, Little Star (Theatre Royal, Melbourne; Christmas, 1873)
This page is based on the copyrighted Wikipedia Marcus Clarke; it is used under the Creative Commons Attribution-ShareAlike 3.0 Unported License. You may redistribute it, verbatim or modified, providing that you comply with the terms of the CC-BY-SA.
The Song Of Tigilau
The song of Tigilau the brave,
Sina's wild lover,
Who across the heaving wave
From Samoa came over:
Came over, Sina, at the setting moon!

The moon shines round and bright;
She, with her dark-eyed maidens at her side,
Watches the rising tide.