Marjan Strojan
Biography of Marjan Strojan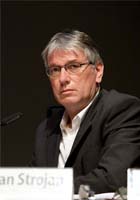 Marjan Strojan was born in Ljubljana in 1949. Poet, translator, film critic; raised on his uncle's farm in the fifties; studied philosophy and comparative literature in the seventies; in 1979 joined the BBC World Service in London and later, as a journalist, the Cultural programme of Radio Slovenia in Ljubljana. In 2005 he held residencies at the University of Iowa and at the Sitka Institute in Alaska, U.S.A.

Marjan Strojan published four books of poetry: Excursion into Nature (Izlet v naravo, 1990), Belittled Insomnias (Drobne nespečnosti, 1991), Steamers in the Rain (Parniki v dežju, 2000) and The Day you loved me (Dan, ko me ljubiš, 2004). His fifth book, a selection from his published and unpublished work, will appear in 2006.
Pruned, Lopped, Cut Down
Think of it -
from now on our days
(one after another) will run on
eventfully. All of a sudden
my lighter won't strike, the coffee
will run out, my Parker
won't write, what was left
in the bottle, that too -
it will run out, cheers to you.