Mark Jarman
Biography of Mark Jarman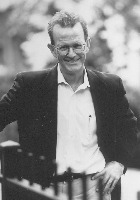 Mark F. Jarman is an American poet and critic often identified with the New Narrative branch of the New Formalism; he was co-editor with Robert McDowell of The Reaper throughout the 1980s. Centennial Professor of English at Vanderbilt University, he is the author of ten books of poetry, two books of essays, and a book of essays co-authored with Robert McDowell. He co-edited the anthology Rebel Angels: 25 Poets of the New Formalism with David Mason.

Jarman's awards for poetry include a Joseph Henry Jackson Award, three grants from the NEA, and a fellowship from the John Simon Guggenheim Foundation. His book The Black Riviera won the 1991 Poets' Prize. Questions for Ecclesiastes was a finalist for the 1997 National Book Critics Circle Award in poetry and won the 1998 Lenore Marshall Poetry Prize from the Academy of American Poets and The Nation magazine.
This page is based on the copyrighted Wikipedia Mark Jarman; it is used under the Creative Commons Attribution-ShareAlike 3.0 Unported License. You may redistribute it, verbatim or modified, providing that you comply with the terms of the CC-BY-SA.
The Supremes
In Ball's Market after surfing till noon,
We stand in wet trunks, shivering,
As icing dissolves off our sweet rolls
Inside the heat-blued counter oven,
When they appear on his portable TV,
Riding a float of chiffon as frothy
As the peeling curl of a wave.
The parade m. c. talks up their hits
And their new houses outside of Detroit,