Marlon AgustinMendez
Marlon AgustinMendez
(03/23/88 / Oaxaca..)
Biography of Marlon AgustinMendez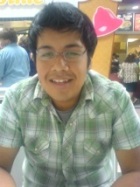 Well I started writting about his one girl I liked then that led to more..So i posted them here and well I like poetry I hope I write and allright poem not very good but...I just graduated highschool and working so I can apply to the Culinary Institute Of America I want to become a Chef...I live in NY like to play soccer hang out computer work and other stuff...
The Rooftop
On this stary night.
My eyes beheld a beautiful sky.
As this rooftop welcomes an old freind.
I sit aand hear the city cry to me in a gracious melody.
I gaze upon the bright lights that whisper of passion and remiinds me of thee.
Of such gracious eyes filled with beauty.
Tonights not for dreaming.
As I ponder about mixed feelings
I wish I could fall to my knees.