Martin Nash
Martin Nash
(27TH OCTOBER 1961 / NORTHAMPTON, eNGLAND)
Biography of Martin Nash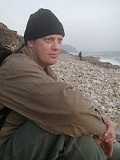 MARTIN IS AN ARTIST, SINGER/SONGWRITER AND POET WITH HIS OWN GALLERY AND A SHARE IN A RECORDING STUDIO IN NORTHAMPTON ENGLAND.
MOST OF HIS MORE ADVENTUROUS STYLES ARE INITIALLY POEMS, ESPECIALLY THE ABSTRACT AND SURREAL PIECES.
HAPPIEST WORKING ON BRITAINS COASTLINE ESPECIALLY CORNWALL, MARTIN PRODUCES A NEW PIECE DAILY AND SHOWS ALL AROUND THE COUNTRY AND IN NORWAY.
YOU CAN SEE HIS WEBSITE AT www.nashgallery.co.uk
ALSO YOU CAN HEAR HIS LYRICS AND MUSIC AT: www.enhsongwriters.co.uk
Thank you for reading this profile.
Martin Nash Poems
From The Look In Her Eyes
It started by fate, this love of ours, blessed by Cupid's shot. Infatuation, a tangled web, I say, it certainly is not. For now we have vision too and voices over phone lines, Technology forged a bond for us in the shortest of all times.
Departure
This must be one of the quietest places on earth, in between the occasional rotor - rumble of the enthusiastic helicopter pilot and the biggles lookalike in his ancient bi-plane.
All poems of Martin Nash »
Share your comments »
Departure
This must be one of the quietest places on earth,
in between the occasional rotor - rumble of the enthusiastic helicopter pilot and
the biggles lookalike in his ancient bi-plane.

Ripples in the clearest of clear water made by swans,
is enough to interfere with this commendable tranquility.

This is where we walk,
where we put to right all daily woes and incessantly talk,