Mary Elizabeth Frye
Biography of Mary Elizabeth Frye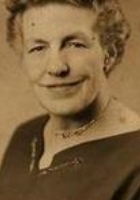 a Baltimore housewife and florist, best known as the author of the poem "Do not stand at my grave and weep," written in 1932.

She was born Mary Elizabeth Clark, and was orphaned at the age of three. In 1927 she married Claud Frye.

The identity of the author of the poem was unknown until the late 1990s, when Frye revealed that she had written it. Her claim was later proven by Abigail Van Buren.

Her poem was also used in one of the Norwegian protocols to express condolences after the 2011 Norway attacks.
This page is based on the copyrighted Wikipedia Mary Elizabeth Frye; it is used under the Creative Commons Attribution-ShareAlike 3.0 Unported License. You may redistribute it, verbatim or modified, providing that you comply with the terms of the CC-BY-SA.