Mary Jo Salter
Biography of Mary Jo Salter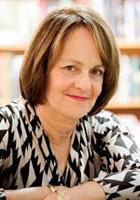 Mary Jo Salter (born August 15, 1954) is an American poet, a co-editor of The Norton Anthology of Poetry[1] and a professor in the Writing Seminars program at Johns Hopkins University.

Salter was born in Grand Rapids, Michigan and was raised in Detroit and Baltimore, Maryland. She received her B.A. from Harvard University in 1976 and her M.A. from Cambridge University in 1978. In 1976, she participated in the Glascock Prize contest.

While at Harvard, she studied with the noted poet, Elizabeth Bishop. She has been an editor at the Atlantic Monthly and at The New Republic.

From 1984 to 2007, she taught at Mount Holyoke College and was, from 1995 to 2007, a vice-president of the Poetry Society of America.

She has two daughters, Emily and Hilary Leithauser.

She is on the editorial board of the literary magazine The Common, based at Amherst College.
Video Blues
My husband has a crush on Myrna Loy,
and likes to rent her movies, for a treat.
It makes some evenings harder to enjoy.

The list of actresses who might employ
him as their slave is too long to repeat.
(My husband has a crush on Myrna Loy,

Carole Lombard, Paulette Goddard, coy