Mary McCarthy
Biography of Mary McCarthy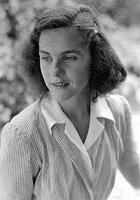 Mary Therese McCarthy (June 21, 1912 – October 25, 1989) was an American author, critic and political activist.

Born in Seattle, Washington, to Roy Winfield McCarthy and his wife, the former Therese Preston, McCarthy was orphaned at the age of six when both her parents died in the great flu epidemic of 1918. She and her brothers, Kevin, Preston, and Sheridan were raised in very unhappy circumstances by her Catholic father's parents in Minneapolis, Minnesota, under the direct care of an uncle and aunt she remembered for harsh treatment and abuse.

When the situation became intolerable, she was taken in by her maternal grandparents in Seattle. Her maternal grandmother, Augusta Morganstern, was Jewish, and her maternal grandfather, Harold Preston, was a prominent attorney and co-founder of the law firm Preston Gates & Ellis, and was a Presbyterian. (Her brothers were sent to boarding school.) McCarthy credited her grandfather, who helped draft one of the nation's first Workmen's Compensation Acts, with helping form her liberal views. McCarthy explores the complex events of her early life in Minneapolis and her coming of age in Seattle in her memoir, Memories of a Catholic Girlhood. Her brother, actor Kevin McCarthy, went on to star in such movies as Death of a Salesman (1951) and Invasion of the Body Snatchers (1956).

Under the guardianship of the Prestons, McCarthy studied at the Forest Ridge School of the Sacred Heart in Seattle, and went on to graduate from Vassar College in Poughkeepsie, New York, in 1933.
Road Hazard
The trouble with driving
was I didn't want to learn.
I never believed
the car was innocent of guile
never trusted it to do
just what I directed
without some unexpected
deviation of its own.
My driving was a tense