Mathilde Blind
Biography of Mathilde Blind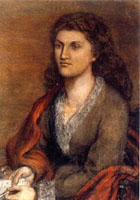 Mathilde Blind British author, was born at Mannheim on the 21st of March 1841. Her father was a banker named Cohen, but she took the name of Blind after her step-father, the political writer, Karl Blind (1826—1907), one of the exiled leaders of the Baden insurrection in 1848—1849, and an ardent supporter of the various 19th-century movements for the freedom and autonomy of struggling nationalities.
The family was compelled to take refuge in England, where Mathilde devoted herself to literature and to the higher education of women. She produced also three long poems, "The Prophecy of St Oran" (1881), "The Heather on Fire" , (1886), an 'indignant protest against the evictions in the Highlands , and "The Ascent of Man" (1888), which was to be the epic of the theory of evolution. She wrote biographies of George Eliot (1883) and Madame Roland (1886), and translated D.F. Strauss's The Old Faith and the New' (1873—1874) and the Memoirs of Marie Bashkirtse , (1890). She died on the 26th of November 1896, bequeathing her property to Newnbam College, Cambridge.
This page is based on the copyrighted Wikipedia Mathilde Blind; it is used under the Creative Commons Attribution-ShareAlike 3.0 Unported License. You may redistribute it, verbatim or modified, providing that you comply with the terms of the CC-BY-SA.
On And On
By long leagues of wood and meadow
On and on we drive apace;
In the dreamy light and shadow
Veiling earth's autumnal face.

Rosy clouds are drifting o'er us,
Rooks rise parleying from their tryst,
And the road lies far before us,
Fading into amethyst.