Maulana Altaf Hussain Hali
Biography of Maulana Altaf Hussain Hali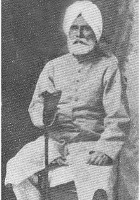 Maulana Khawaja Altaf Hussain Hali (Urdu: مولانا خواجه الطاف حسین حالی) was an Urdu poet, and writer. Hali occupies a special position in the history of Urdu literature. He was a poet, a critic, a teacher, a reformer and an impressive prose-writer. He was a close friend of Sir Syed Ahmad Khan.

Moulana Altaf Hussain Hali has an important place in Urdu literary history. He is one of the Aanasar-e-Khamsa of Urdu. He has written the Musaddas-e-Hali which occupies an important position in Urdu literature.

Short Biography

Born in Panipat, circumstances did not permit him to attain formal education in a school or college, yet he managed to acquire , through sustained self-effort, perfect command of Urdu, Persian and Arabic, and a good working knowledge of English. He later moved to Delhi where he wished to study the Islamic theology and poetic tradition. As a poet he did not confine himself within the narrow bounds of the ghazal, but successfully exploited the other poetic forms such as the nazm, the rubai, and the Marsia. More particularly, he harnessed his poetic abilities to the higher aims of social and moral edification. His famous long poem, Musaddas-e-Hali, examines the state of social and moral degradation prevalent in the then contemporary Muslim society. His prose treatise, Muqaddama-e-Shair-o-Shairi, is a pioneering work of literary criticism. It dwells on the limitations of the traditional ghazal, and points to the hollowness of its hackneyed themes and imagery, especially when the form is handled by inferior poets and versifiers.

Civil Service

It was here he chose the cognomen of Khastah ("The Spent One", or "The Tired One"). He was forced to return home, and pursued a government job until displaced by the First War of Independence of 1857.

Writing

After this turning point in his life, he drifted from job to job for several years, arriving eventually in Lahore in the mid 1870s, where he began to compose his epic poem at the request of Sir Syed Ahmad Khan, the Musaddas e-Madd o-Jazr e-Islam ("An elegiac poem on the Ebb and Tide of Islam") under the new poetic pseudonym of Hali ("The Contemporary"). The Musaddas, or Musaddas-e-Hali, as it is often known, was published in 1879 to critical acclaim, and considered to herald the modern age of Urdu poetry. Hali also wrote one of the earliest works of literary criticism in Urdu, Muqaddamah-i Shay'r-o-Sha'iri.

Musaddas e mado jazr islam, one of Hali's most famous works describes the rise and fall of the Islamic empire in the sub-continent. It speaks about the Islamic empire at its best and worst. About Masadas-e-Hali,Sir Syed had said that If God will ask me that what have I achieved in life Then I will say that I've achieved The Mussadas written by Hali. The aim of this writing was to forewarn the Muslims of the sub-continent and make them more aware of their past and help them learn from their forefathers' mistakes. Some scholars of Pakistani nationalism also consider The Mussadas an important text for future articulation of a Muslim nation.

He has also written memorable biographies of Ghalib, Saadi Shirazi, and Sir Syed Ahmed Khan, entitled respectively, Yaadgar-e-Ghalib, Hayat-e-Saadi, and Hayat-e-Javad. His poem "Barkha Rut," describes the beauties of nature in the rainy season; "Hub-e-Watan," underscores the virtues of patriotism; while "Bewa ki Manajaat" focuses on the plight of widows in Indian society. Hali's interests were wide-ranging, and his literary abilities were commensurate with his humanitarian aims.
This page is based on the copyrighted Wikipedia Maulana Altaf Hussain Hali; it is used under the Creative Commons Attribution-ShareAlike 3.0 Unported License. You may redistribute it, verbatim or modified, providing that you comply with the terms of the CC-BY-SA.
Our Poets
Those rotten volumes of eulogies and odes
With a stink far worse than of toilets rank
Causing earth to split, which Providence forebode
Causing company of angels to blush in the heavens
What has caused decline of Din and of knowledge
Is the elegant tradition of denizens of our college.

If writing bad poetry some punishment deserves
If lies piled on lies is unpardonable sin