Maureen McManus
Maureen McManus
(Cornafulla, Athlone)
Biography of Maureen McManus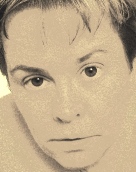 Irish writer living in Prague.
McManus has had poems published in many small magazines in the UK and Ireland, including, Tall Lighthouse Review, Poetry Nottingham International, Orbis, Chanticleer, tHe sHop etc. Her play, The Ladies Cage, was staged in London at the Finborough Theatre, and the Manchester Royal Exchange in 2007.
Smart Like Camus
All my life I felt I should apologise
because I'm smart.
Like Camus,
as though my intelligence
was an insult to someone.

I'm not that smart you know
it's an act.
When I stand in front
and you see smartness,
you reflect.
All it is,
is hunger.