Mcanthony C. Nwatu
Mcanthony C. Nwatu
(25th october 1992 / Enugu)
Biography of Mcanthony C. Nwatu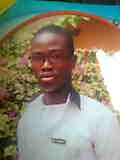 Am a dramatist.I love to compose poems but i don't have much experience.
A Love
Not having a love
makes me sad and odd.
Now i found one
sadness to its apex increased.
In miry clay i swim for
not been cared for
by love.
Questions arose in me
if am on the wrong
or right part.
Will time solve this.
O! save me saviour.