Meena Alexander
Biography of Meena Alexander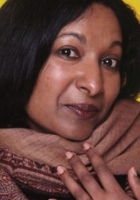 Meena Alexander (born 1951) is an internationally acclaimed poet, scholar, and writer. Born in Allahabad, India, and raised in India and Sudan, Alexander lives and works in New York City, where she is Distinguished Professor of English at Hunter College and at the CUNY Graduate Center in the PhD program in English. She is the author of numerous collections of poetry, literary memoirs, essays, and works of fiction and literary criticism.
Meena Alexander was born into a Syrian Christian family from Kerala, South India. She lived in Allahabad and Kerala until she was almost five when her father's work—as a scientist for the Indian government—took the family to Khartoum in newly independent Sudan.In 1964, when she was only thirteen, Alexander enrolled in Khartoum University, where she studied English and French literature. There she wrote her first poems, which were translated into Arabic and published in a local newspaper. After graduating with a BA Honors from Khartoum University in 1969, she moved to England and began doctoral study at Nottingham University. She earned a PhD in English in 1973—at the age of twenty-two—with a dissertation in Romantic literature that she would later develop and publish as The Poetic Self. She then moved to India and taught at several universities, including the University of Delhi and the University of Hyderabad. During the five years she lived in India she published her first three books of poetry: The Bird's Bright Ring (1976), I Root My Name (1977), and Without Place (1978). In 1979 she was a visiting fellow at the University of Paris-Sorbonne. The following year she moved to New York City and became an assistant professor at Fordham University, where she remained until 1987 when she became an assistant professor in the English Department at Hunter College, the City University of New York (CUNY). Two years later she joined the graduate faculty of the PhD program in English at the CUNY Graduate Center. In 1992 she was made full professor of English and Women's Studies. She was appointed Distinguished Professor of English in 1999 and continues to teach in the PhD program at the Graduate Center and the MFA program at Hunter College. Over the years she has also taught poetry in the Writing Division in the School of the Arts at Columbia University. Since moving to New York, Alexander has been a prolific author, publishing six more volumes of poetry, two books of literary criticism, two books of lyric essays, two novels, and a memoir. She is married to the brother of journalist and author Joseph Lelyveld, and has two children.
Alexander is known for lyrical writing that deals with migration, its impact on the subjectivity of the writer, and the sometimes violent events that compel people to cross borders.Though confronting such stark and difficult issues, her writing is sensual, polyglot, and maintains a generous spirit. About her work, Maxine Hong Kingston has said: "Meena Alexander sings of countries, foreign and familiar, places where the heart and spirit live, and places for which one needs a passport and visas. Her voice guides us far away and back home. The reader sees her visions and remembers and is uplifted." Alexander has been influenced and mentored by the Indian poets Jayanta Mahapatra and Kamala Das, as well as the American poets Adrienne Rich and Galway Kinnell.
Among her best-known works are the volumes of poetry Illiterate Heart (2002) and Raw Silk (2004). Her latest volume of poetry is Quickly Changing River (2008). She has edited a volume of poems in the Everyman Series, Indian Love Poems (2005), and published a volume of essays and poems on the themes of migration and memory called The Shock of Arrival: Reflections on Postcolonial Experience (2006). In 1993 Alexander published her autobiographical memoir, Fault Lines (significantly revised in 2003 to incorporate new material). She has published two novels, Nampally Road (1991)—which was a Village Voice Literary Supplement Editor's Choice—and Manhattan Music (1997), and two academic studies, The Poetic Self (1979) and Women in Romanticism (1989). Fault Lines was chosen by Publishers Weekly as one of the best books of the year in 1993. Illiterate Heart won the 2002 PEN Open Book Award.
Alexander has read at Poetry International (London), Struga Poetry Evenings, Poetry Africa, Calabash Festival, Harbor Front Festival, Sahitya Akademi (India) and other international gatherings. She has received awards from the Guggenheim Foundation, Fulbright Foundation, Rockefeller Foundation, Arts Council England, National Endowment for the Humanities, American Council of Learned Societies, National Council for Research on Women, New York State Council on the Arts, New York Foundation for the Arts, Ledig-Rowohlt Foundation. She was in residence at the MacDowell Colony and has held the Martha Walsh Pulver residency for a poet at Yaddo. She has been a Visiting Fellow at the Sorbonne (Paris IV), Frances Wayland Collegium Lecturer at Brown University, Writer in Residence at the Center for American Culture Studies at Columbia University, University Grants Commission Fellow at Kerala University, and Writer in Residence at the National University of Singapore. In 1998 she was a Member of the Jury for the Neustadt International Prize for Literature. She has served as an Elector, American Poets' Corner, at the Cathedral of Saint John the Divine, New York. She was the recipient of the 2009 Literary Excellence Award from the South Asian Literary Association (an organization allied to the Modern Languages Association) for contributions to American literature. In 2014, Meena Alexander was named a National Fellow at the Indian Institute of Advanced Study.
Her book, Poetics of Dislocation, was published in 2009 by the University of Michigan Press as part of its Poets on Poetry Series. Also in 2009 Cambridge Scholars Publishing brought out an anthology of scholarship on her work titled Passage to Manhattan: Critical Essays on Meena Alexander.
The poems in her new book, "Birthplace with Buried Stones", "convey the fragmented experience of the traveler, for whom home is both nowhere and everywhere" .
Dog Days of Summer
In the dog days of summer as muslin curls on its own heat
And crickets cry in the black walnut tree

The wind lifts up my life
And sets it some distance from where it was.

Still Marco Polo Airport wore me out,
I slept in a plastic chair, took the water taxi.