Melissa Coventry
Melissa Coventry
(25/01/1991 / Adelaide)
Biography of Melissa Coventry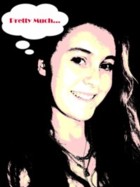 The quintessential dreamer... One to always have my head in the clouds but thinks like my feet are on the ground...

A story teller my nature... dramatic and action are my personality genres... but being the comedy of company is my best hit...

A walking body of quotes.. As a profound quote is summary of a life experience and lesson.. that always isn't fully understood until the mistake is made that a profound quote warned us of... Thus the beauty of life.



.: .Quote (the short version of wisdom) .: .
Youl will never know unless you ask the question and have the time to listen...
Surrender Your Punch
Alas, oh no!
Sooth this dispute,
Your disposition to the matter,
Its sicken,
Are you a man?
Have you any feeling?
Do you understand?

Your wife,