Melissa Coventry
Melissa Coventry
(25/01/1991 / Adelaide)
Biography of Melissa Coventry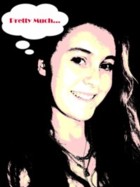 The quintessential dreamer... One to always have my head in the clouds but thinks like my feet are on the ground...

A story teller my nature... dramatic and action are my personality genres... but being the comedy of company is my best hit...

A walking body of quotes.. As a profound quote is summary of a life experience and lesson.. that always isn't fully understood until the mistake is made that a profound quote warned us of... Thus the beauty of life.



.: .Quote (the short version of wisdom) .: .
Youl will never know unless you ask the question and have the time to listen...
It's A State Of Despair…
What a country we live in,
When free speech is converted to a whisper,
When a peaceful protest is a terrorist act,
And when good education,
Has gone to the gutter.
When our health system,
Is on the rocks and doesn't work,
It's just a choke.