Meng Jiao
Biography of Meng Jiao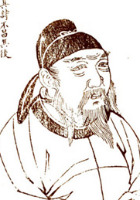 Meng Jiao (Chinese: 孟郊; Wade–Giles: Meng Chiao; 751–814) was a poet of the Tang Dynasty, in China. Two of his poems have been collected in the popular anthology Three Hundred Tang Poems. Meng was the oldest of the Mid-Tang poets and is noted for the unusual forcefulness and harshness of his poems.
Meng Jiao's courtesy name was Dongye (traditional Chinese: 東野; simplified Chinese: 东野; pinyin: Dōngyě).
Meng Jiao was born into difficult times. His pursuit of poetry and reluctance until late in life to write and pass the imperial examinations (which if taken earlier in life might have eventually lead to a well-paid political career) resulted in his living a life in which necessities were scarce. Nevertheless, his commitment to poetry resulted in him becoming an influential leader in terms of poetic innovation.
This page is based on the copyrighted Wikipedia Meng Jiao; it is used under the Creative Commons Attribution-ShareAlike 3.0 Unported License. You may redistribute it, verbatim or modified, providing that you comply with the terms of the CC-BY-SA.
Autumn Thoughts
Lonely bones can't sleep nights. Singing
insects keep calling them, calling them.
And the old have no tears. When they sob,
autumn weeps dewdrops. Strength failing

all at once, as if cut loose, and ravages
everywhere, like weaving unraveled,

I touch thread-ends. No new feelings.