Meshack Sewe
Meshack Sewe
(Kenya)
Biography of Meshack Sewe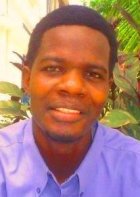 Mothered by a mother of all mothers! Fathered by a father who passed away when I was featherless; Educated by a cousin encouraged by my courage; Supported by brothers who have never been a bother; Enrolled in a high school aiming to reach higher; trained in diversity; worked with an NGO in war-torn Mogadisho; Returned to Nairobi, working with a private company...cherishing humanity, volunteering for an NGO.....appreciate deep richness in all humanity..struggling like all human species....! And in love, yes! ..in love with my sweet lovely love...., and in love with heartfelt poetry...how about touring my blog: www.awokensoul.blogspot.com...and keep me company?
It Takes A Woman...
Born by a woman, born in the neighborhood
Fed by a woman, through tough livelihood
Raised by a woman, all through childhood
Married to a woman, enjoying your manhood
How about parenthood?
Is it solely for womanhood?
All through her adulthood?
Who can be a real man without splendors of a woman?
To be a man, be a man of honor.