Michael Dumanis
Biography of Michael Dumanis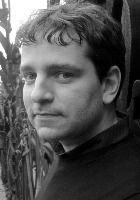 Michael Dumanis (born January 18, 1976, in Moscow, Russia) is an American poet, professor, and editor of poetry.

Works

Dumanis's first collection of poetry, My Soviet Union (University of Massachusetts Press, 2007), won the 2006 Juniper Prize for Poetry. Other works have appeared in literary journals, including Denver Quarterly, H.O.W. Journal, New England Review, Pleiades, "Ploughshares", Post Road, and Prairie Schooner.

Along with poet Cate Marvin, Dumanis coedited the anthology Legitimate Dangers: American Poets of the New Century (Sarabande Books, 2006). He also served as the Section Editor for the poetries of Bulgaria, Czech Republic, Macedonia, Russia, and Slovakia in The New European Poets, an anthology from Graywolf Press (2008). Additionally, he acted as the editor for Cleveland State University Poetry Center's new publications from 2007, when he took over the small press's directorship, until 2012.

Biography

Born in the former Soviet Union, Dumanis came to the United States with his parents when they were granted political asylum in 1981. From 2005–2007, he taught creative writing at Nebraska Wesleyan University in Lincoln, Nebraska. From 2007 to 2012, was a professor of English at Cleveland State University and served as Director of the Cleveland State University Poetry Center, a literary small press. In 2012, he joined the literature faculty at Bennington College. He divides his time between Bennington, Vermont and Brooklyn.
The Forecast
I carry myself out into the rainswept blur.
I lift my pleasant voice over the coming flood.
I have nothing to do that I'm going to do.
I keep meaning to purchase a dog. I keep waiting

to email you back. When I see you again will
I know who you are? Once I wove you a mask
of rattan and hair. Once I carved you a mask
of painted wood. I brushed my wooden leg