Michael Meyerhofer
Biography of Michael Meyerhofer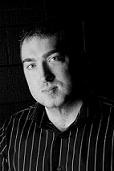 Michael Meyerhofer's book, 'Leaving Iowa', won the Liam Rector First Book Award and is available from
www.amazon.com. His second book, 'Blue Collar Eulogies', is forthcoming from Steel Toe Press. He is also the author of four chapbooks-'Cardboard Urn', 'The Right Madness of Beggars', 'The Clay-Shaper's Husband', and the forthcoming 'Real Courage'. His work has appeared in Ploughshares, Arts & Letters, River Styx, North American Review, Green Mountains Review, MARGIE, Southern Poetry Review, Big Muddy, Flyway, Free Lunch, Diagram, and others. He recently won the James Wright Poetry Award, the Laureate Prize, and the Annie Finch Poetry Prize.

Michael Meyerhofer's Works:

Leaving Iowa (available on Amazon.com)
The Clay-Shaper's Husband (Codhill Press)
Real Courage (Jeane Duval Editions)
The Right Madness of Beggars (Uccelli Press)
Cardboard Urn (available on Amazon.com)
The Drifter
came eventually to a cattle ranch where,
saying little, he took work
and that night, sitting down at dinner
one of the cowboys asked
what he did:

I'm a poet, he answered.
They looked at him.
You didn't get arms like that writing poems
one of them said

to which he smiled
and answered,
It was a heavy pen.