Michael Strunge
Biography of Michael Strunge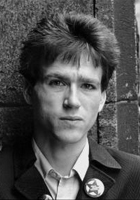 Michael Strunge Jensen (1958 – 1986) was a Danish poet.
As a member of the original circle of 1980s poets in the group around Hvedekorn's editor Poul Borum, Michael Strunge, in cooperation with his colleague Jens Fink-Jensen, among others, arranged the generational manifestation "NÅ!!80" in Copenhagen in 1980.
He received the Otto Gelsted Prize in 1983.
With influences from both Romanticism, Symbolism and Modernism, Strunge's work is somewhat reminiscent of that of French poet Arthur Rimbaud. Strunge's poetry deals with such topics as sex, death, modernity and life in the city.
Originally inspired by the British punk wave of the late 1970s, many of Strunge's poems are full of references to the artists of his day, such as The Sex Pistols, The Clash, The Cure, Joy Division, New Order, Brian Eno and David Bowie.
Strunge killed himself on 9 March 1986, during a manic episode caused by bipolar disorder, by jumping from the 4th floor. He is buried at Assistens Cemetery in Copenhagen.
The Machinery Of Night
Slowly the night is charged by the city's lights.
The star buttons blink
and on the moon-screen the first images can be seen.
Oh, I am lulled as on a steamer,
a heavy express train through the dark,
fly high in the Machinery of Night.
The clouds of dream-steam
whisper whitely to the earth.
The Machinery of Night works away, absorbing human souls.