Michelle Chapman
Michelle Chapman
(Margate, UK)
Biography of Michelle Chapman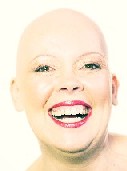 I have had alopecia since I was five years old and work with both cancer and alopecia patients in the UK, helping them deal with hair loss.

I enjoy writing and having spent so much time alone when I was growing up, music and words were my escape from the world I didn't enjoy being in.

I now love who I am and do everything I can to inspire, support, help and advise anyone who loses their hair.

Michelle Chapman's Works:

Looking for a publisher for my book Bald and Beautiful, a life of living and loving with hair loss.
A Girl With No Hair
I'm a girl with no hair,
Used to think it wasn't fair,
But now I don't.

It was so hard before,
hid behind a closed door,
But not now.

I can be who I want,
Red, Blonde or Brunette,
Or none at all.

I'm a girl with no hair,
I have a head that is bare,
And I LOVE IT! ! !

Newcastle, April 2009