Midnight Writer
Midnight Writer
(08/25/1985 / Milwaukee)
Biography of Midnight Writer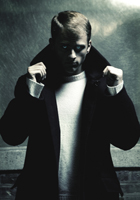 Midnight Writer has been an avid writer since the age of ten years old. Born 08/25/1985 as a Virgo you will find a young man with an aged soul. Hobbies that he enjoys include Martial Arts, Weight Lifting, Dating, Reading, Modeling, and of course writing. His poems are unique just like every person in this world.

No poem is identical, but the reader will get an uncanny feeling of some sort of underlying theme. The period of time his poetry was written spans the course of about six years. That period of time was very trying, as you will read. His struggle between God and man appear throughout. The spiritual world is very real and revealing to Midnight Writer. His sixth sense seems to be very in tune with everything around him and life.

Midnight Writer tends to write using analogies and story telling. He is known as a hopeless romantic. Very minimal interpretation needs to be used to understand the subject matters of this collection. With that being said, enjoy the writings of poetry writer Midnight Writer.
Give Me A Sign
The whole world has been brought to its knees, and I still have these nervous shakes.
Don't be fooled you push me too far and I will kill you, no matter what it takes.

Leave me alone, then pull me closer then ever before because I'm insane.
I lost my mind to you two years ago, do something to rid me of this pain.

We burned through the summer so fast. I wish each of those days were years.
No matter how strong I will you back, this emptiness still brings me to tears.