Miguel de Cervantes
Biography of Miguel de Cervantes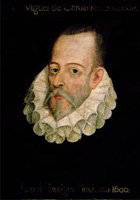 Diego Miguel de Cervantes Saavedra ( 29 September 1547 – 23 April 1616) was a Spanish novelist, poet, and playwright. His magnum opus Don Quixote, often considered the first modern novel, is a classic of Western literature, and is regularly regarded amongst the best novels ever written. His work is often considered amongst the most important works in all of Western literature. His influence on the Spanish language has been so great that Spanish is often called la lengua de Cervantes, Spanish for the language of Cervantes. He has been dubbed El Príncipe de los Ingenios – The Prince of Wits.

Some of his poems are found in La Galatea. He also wrote Dos Canciones à la Armada Invencible. His best work however is found in the sonnets, particularly Al Túmulo del Rey Felipe en Sevilla. Among his most important poems, Canto de Calíope, Epístola a Mateo Vázquez, and the Viaje del Parnaso (Journey to Parnassus – 1614) stand out. The latter is his most ambitious work in verse, an allegory which consists largely of reviews of contemporary poets. Compared to his ability as a novelist, Cervantes is often considered a mediocre poet, although he himself always harbored a hope that he would be recognized for having poetic gifts.

Miguel de Cervantes's Works:

* La Galatea (1585): a pastoral romance in prose and verse, based upon the genre introduced into Spain by Jorge de Montemayor's Diana (1559). Its theme is the fortunes and misfortunes in love of a number of shepherds and shepherdesses, who spend their life singing and playing musical instruments.
* El Ingenioso Hidalgo Don Quijote de la Mancha (1605): First volume of Don Quixote.
* Novelas Ejemplares (1613): a collection of twelve short stories of varied types about the social, political, and historical problems of Cervantes' Spain:
o La Gitanilla (The Gypsy Girl)
o El Amante Liberal (The Generous Lover)
o Rinconete y Cortadillo (Rinconete & Cortadillo)
o La Española Inglesa (The English Spanish Lady)
o El Licenciado Vidriera (The Lawyer of Glass)
o La Fuerza de la Sangre (The Power of Blood)
o El Celoso Extremeño (The Jealous Man From Extremadura)
o La Ilustre Fregona (The Illustrious Kitchen-Maid)
o Novela de las Dos Doncellas (The Novel of the Two Damsels)
o Novela de la Señora Cornelia (The Novel of Lady Cornelia)
o Novela del Casamiento Engañoso (The Novel of the Deceitful Marriage)
o El Coloquio de los Perros (The Dialogue of the Dogs)
* Segunda Parte del Ingenioso Hidalgo Don Quijote de la Mancha (1615): Second volume of Don Quixote.
* Los Trabajos de Persiles y Sigismunda (1617). Los Trabajos is the best evidence not only of the survival of Byzantine novel themes but also of the survival of forms and ideas of the Spanish novel of the second Renaissance. In this work, published after the author's death, Cervantes relates the ideal love and unbelievable vicissitudes of a couple, who, starting from the Arctic regions, arrive in Rome, where they find a happy ending to their complicated adventures.
A La Guerra Me Lleva
A la guerra me lleva
mi necesidad;
si tuviera dineros
no fuera en verdad.