Mike poet
Mike poet
(04/02/1967 / New Orleans Louisianna)
Biography of Mike poet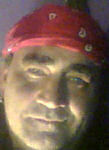 When tub overflows
a bubble nudged by sigh
floats as a transient sphere
which mirrors bathing beauty.




I was born in New Orleans and adopted out as a baby. I grew up for the most part in South Louisianna around lafayette and Houma. At 42 I met my Blood line and I have many Brothers and Sisters. Is a good thing for me.
I have been writting poetry since I was 10 yrs old and seem to have no clue how to get published.

I like to write Childrens poetry.
My Sleeping Angel
I see my sleeping angel
she tastes as sweet as velvet cake,
so here I sit in silence
as I long for her awake.

Surely she is my angel
whispering my name,
in dreams we are entangled
awake we are the same.