Mikhail Yuryevich Lermontov
Biography of Mikhail Yuryevich Lermontov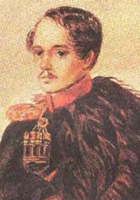 Lermontov was born in Moscow on 15th October 1814 to a retired army captain and his wife. At the age of three Lermotov's mother died and he was sent to live with his grandmother on her estate in Penzenskaya province. Here, the natural and at times exotic beauty of the area formed a lasting impression on him, as did the customs and ceremonies of the time and the stories, legends and folk songs that he heard.

In 1827 he moved with his grandmother to Moscow and attended boarding school. There he began to write poetry and study painting. Lermontov, like many other young writers at the time, was influenced heavily by English poet Lord Byron, as was shown by his first two poems Cherkesy and Kavkazsky Plennik (1928).
His first published verse, Vesna the followed in 1830.

Also in 1830, he entered Moscow Univeristy and studied alongside such democratically minded representatives of nobility as Aleksandr Herzen and Nikolay Platonovich Ogaryov. Students regularly discussed political and philosophical problems and it was in this atmosphere that Lermotov wrote a number of longer, narrative poems and dramas. For example, his drama Stranny Chelovek (A Strange Man)(1831) reflected the attitudes current among members of student societies: hatred of the despotic tsarist regime and of serfdom.

In 1832 he left Moscow univerity and entered cadet school in St. Petersburg.
Upon his graduation in 1834 he was appointed to the Life-Guard Hussar Regiment stationed at Tsarskoye Selo (now Pushkin), close to St. Petersburg. In 1840 he was exiled following a duel with the son of the French ambassador at St. Petersburg. However, in 1841 he was allowed to return in order to spend some time with his grandmother. On his return journey he experienced a burst of creative energy and wrote such poetic pieces as Utes (The Cliff), Spor(Argument), Net, ne tebya tak pylko ya lyublyu (No, It Was Not You I Loved So Fervently) and his last work Prorok ("Prophet").

Lermontov died during a duel with a fellow officer in 1842. He was only twenty six years of age but had still shown himself to be a gifted poet, writer, and playwright who would go on inspire a number of other Russian artists.
This page is based on the copyrighted Wikipedia Mikhail Yuryevich Lermontov; it is used under the Creative Commons Attribution-ShareAlike 3.0 Unported License. You may redistribute it, verbatim or modified, providing that you comply with the terms of the CC-BY-SA.
The Leaf
A little oak leaf tore off from its branch
Was driven o'er the steppe by a cruel gale;
Dried up and withered from the cold, the heat and sorrow
It finally alit by the Black Sea shore.

A young plane tree stands by the Black Sea shore;
A whispering wind strokes her green boughs;
On her green boughs sway heavenly birds
Singing the praises and fame of the queen of the sea.