Milly Hunter
Milly Hunter
(Fort Smith, Arkansas)
Biography of Milly Hunter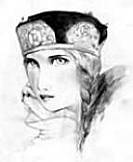 From a hillbilly family I evolved "quite different from the norm." Consequently, after many adventure (from around the world) I discovered, by way of genealogy research, a great inheritance from famous royals in my line.

I now reside in New Zealand and my interest are simply too many to include on this site. Poetry, however, is a constant stream of delight to my creative senses. Thanks for stopping by, and I'd love to hear how you like my poems. You can email me at: armour_quill@xtra.co.nz

Have a great week; warm regards,
Milly.
The Piercing Seamstress
Within this flamboyant heart, not shy of love,
I have never prayed for a mate to the father above,
That one might tame my vanity and pride.

Though trials have passed me unscathed,
In pain and obscurity my heart would bathe.
Quite secure, was I-, that I'd have destiny's ride.

Predetermined from Rainbow skies…