Mimi Khalvati
Biography of Mimi Khalvati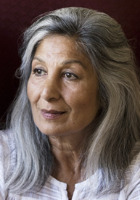 Mimi Khalvati is an Iranian-born British poet.

She was born in Tehran, Iran in 1944. She grew up on the Isle of Wight and was educated in Switzerland at the University of Neuchâtel, and in London at the Drama Centre and the School of Oriental and African Studies.

She then worked as a theatre director in Tehran, translating from English into Persian and devising new plays, as well as co-founding the Theatre in Exile group.

She now lives in London Borough of Hackney, and is a Visiting Lecturer at Goldsmiths College and a director of the London Poetry School.

Khalvati was 47 when her first book appeared in 1991. Its title, In White Ink, derives from the work of Helene Cixous who claimed that women in the past have written "in white ink". Michael Schmidt observes that Khalvati is "formally a most resourceful poet".

Khalvati is the founder of The Poetry School, running poetry workshops and courses in London, and is co-editor of the school's first two anthologies of new writing: Tying the Song and Entering The Tapestry. She is also tutor at the Arvon Foundation, and has taught creative writing at universities and colleges in the United States of America and Britain.
Ghazal: In Silence
Let them be, the battles you fought, in silence.
Bury your shame, the worst you thought, in silence.

At last my Beloved has haggled with death.
'One more day' was the pearl she bought in silence.

At night she heard the blacksmith hammering chains,
at dawn the saw, the fretwork wrought in silence.